You are here :


Message From Gen. Secretary
Message From Gen. Secretary
It is a matter of great privilege and humble pride in associating with the professional Education Programmes of the Indian Institution of Valuers is the only institution in the world providing educational programmes and training in the field of valuation consultancy.
Earlier the engineers were being awarded membership of the institute on the basis of work experience in the relevant field. They had to wait for a year to work as Approved Valuers for Govt. / Semi Govt/ Non- Govt. & Financial sector. Now immediately after successful completion of the specific educational courses which are in the form of Diploma, Post Graduate Diploma and Masters Diploma in Valuation; the candidates shall become eligible for the Membership Award. Thereby enabling them to carry out their business of valuation with Financial sector all around the globe. This will result in better valuation. Their effectiveness and skill would be enhanced as well.

The advent of off- campus educational programmes comes as are additional feather to the renowned crown of The Indian Institution of Valuers. This will deliver innovative programmes of professional education and training to all aspirants irrespective of their place of residence and work. Students, Researchers, Professional, under – employed and employed can easily acquire additional professional education and know- how for better prospects.

At this great moment, it is a pleasure to extend my warm greetings to one and all to avail this golden facility for better learning and living.

Let The Indian Institution of Valuers, be the leading light in the world of professional education.
Best Wishes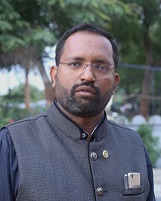 Vr. Sachin Bangar
Hon. Gen. Secretary, The Indian Institution of Valuers
The World's First ISO 9001 - 2000 certified Instituion of Professional Valuers
Member: International Federation of Engineering Organizations (IFEO)
Member: Federation of Indian Chambers of Commerce and Industry (FICCI)